EC - Exports - Custom Export
The custom export feature in Easy Clocking is designed to allow exporting the information as per your company requirements. It allows choosing what data you want to include in the file.
It is very flexible and advanced that even if you require to sum and add fields or use a combination of both, it has a portion called "Transformation" where using Python coding, you can design the data included in the export.
How to create custom exports
Click on

Export

Click on

Custom Export

Click on

Columns

and here you must enter what values to include in the file
To add values click on

Columns

then click on

Add Column

For each column enter the following:

Name - Here enter the column name for the CSV.
Title - This may be left blank, however the name column should be unique and different, but if your requirement needs certain columns named to be named the same, then use the title column for this purpose.
Format - This is normally blank, but for example you can enter F2 if you only need 2 decimals for the value being exported.
Type - Select the value type which could be one of the following:

Data Field

- Used when the source comes originally from the db.

Constant Field

- Used when it is not a value coming from the the db. Constant fields must be manually entered.
For example: Pay Codes or Earning Codes which are different for each payroll provider.

Transformation

- Used when the value source comes from a transformation using Python coding.

Format Base

- Used for specific formats.

Once the columns have been added, then click under Period to select the dates for the export
Click on User to select the User to export information for.
Then click

Preview

to preview the file or Click

Export

to generate the CSV file.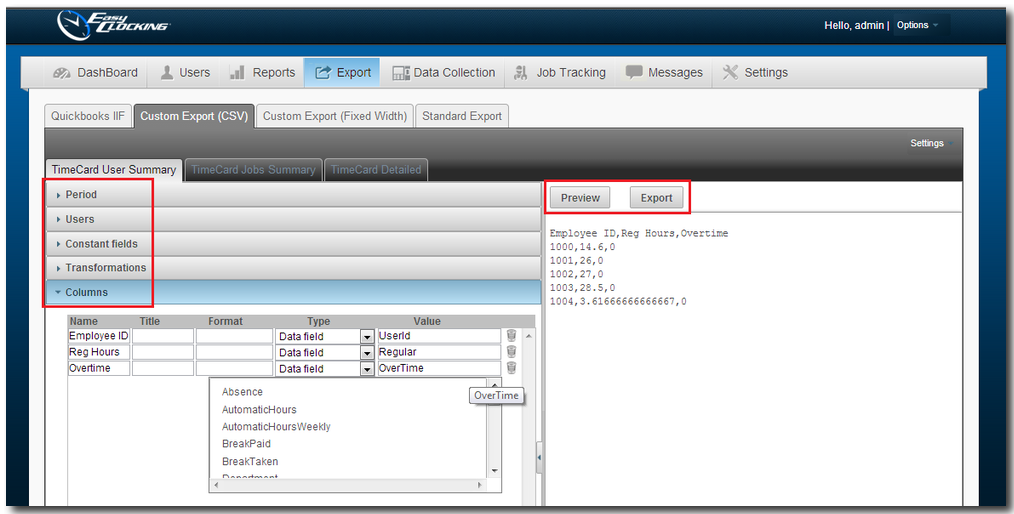 Easy Clocking Support Team Contact Details
Contact our Support Team on 1300 693 610

Related Articles

EC - Exports - Standard Export

The standard export feature in Easy Clocking is designed to allow exporting information in a standard format used in the industry. The export file for the standard export will be a CSV file which will include: User ID Regular Hours Overtime Hours ...

EC - Creating Custom Absence Type

Easy Clocking allows you to track a few absences by default, such as Holiday, Personal, Sick and Vacation. You also have the option of creating custom absences under the Settings. To create custom absences, navigate to: Settings Absence Types Create ...

EC - Reports -Time Card

Easy Clocking offers the following report options to help manage and review your employee time logs: Detailed: This report is a copy of the actual employee time card. It includes individual time logs per day, along with daily and grand totals for the ...

EC - View or Modify Personal User Information

You can store employee information, such as emergency contact information or a personal address under the Personal tab. To access the Personal tab, navigate to: Users Personal Select the employee Employee Data Address Address2 City Zip Code Country ...

EC - Confirm your device Host PC Settings

To successfully connect your EC device to your software account, you will need to confirm that the Host PC Settings are correct. To confirm the Host PC Settings, navigate to: 1. Menu 2. Settings -> Set IP -> Host PC Settings The EC clock uses one of ...