EC - Exports - Standard Export
The standard export feature in Easy Clocking is designed to allow exporting information in a standard format used in the industry.
The export file for the standard export will be a CSV file which will include:
User ID
Regular Hours
Overtime Hours
Double Time Hours
Sick Hours
Vacation Hours
Holiday Hours
Other Absence Hours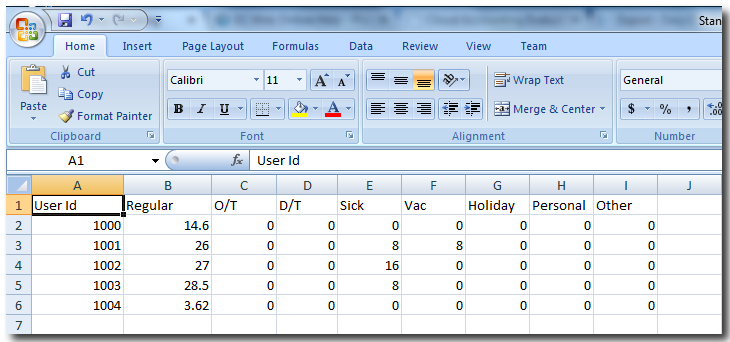 How to create standard exports
Click on

Export

Click on

Standard Export

Click under

Period

to select the dates for the export
Click on

User

to select the User to export information
Click

Preview

to preview the file or Click

Export

to generate the standard CSV file export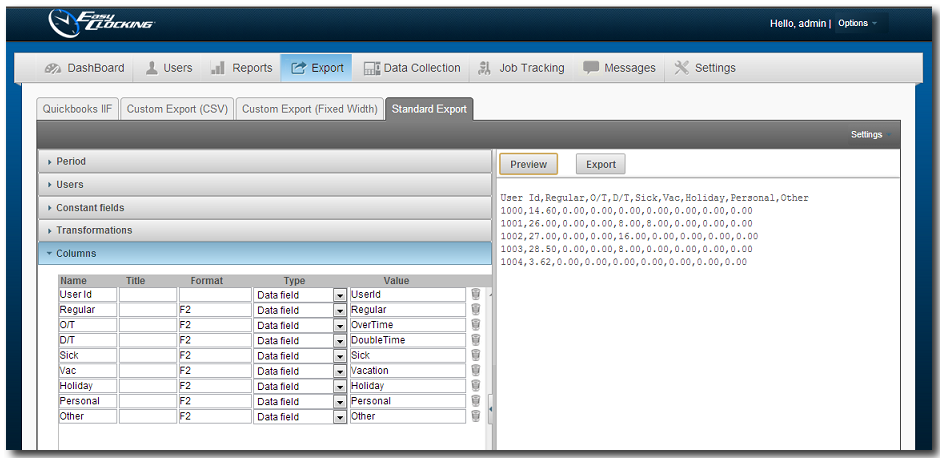 Easy Clocking Support Team Contact Details
Contact our Support Team on 1300 693 610

Related Articles

EC - Exports - Custom Export

The custom export feature in Easy Clocking is designed to allow exporting the information as per your company requirements. It allows choosing what data you want to include in the file. It is very flexible and advanced that even if you require to sum ...

EC - Pay Class Setup

What is a Pay Class? The Pay Class contains a set of rules that assist in the layout and breakdown of the Employee work times. These rules consist of Overtime, Double-time and Lunch and Break settings, along with maximum work hours and overnight ...

EC - Reports -Time Card

Easy Clocking offers the following report options to help manage and review your employee time logs: Detailed: This report is a copy of the actual employee time card. It includes individual time logs per day, along with daily and grand totals for the ...

EC - Confirm your device Host PC Settings

To successfully connect your EC device to your software account, you will need to confirm that the Host PC Settings are correct. To confirm the Host PC Settings, navigate to: 1. Menu 2. Settings -> Set IP -> Host PC Settings The EC clock uses one of ...

EC - Check your active user license

If you want to add employees (known as users) into the system you need to have a license available for that user. How to check user license? Go to Settings. Go to General. Select Upgrade License You can now see how many users you have active out of ...